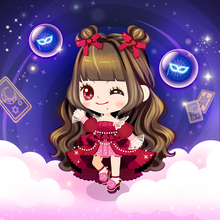 Mystery Curious Closets is similar to the original feature, Curious Closets. Berry is the one in control of it instead of Cherry, and she does not show you which hint items you need. She will only give you hints on what the items are, and you will have to find them on your own.
Mystery Curious Closets Hints
Vol.1
For the first item, you must be wearing a fashion item from the Gacha The Next Top Idol Star and enter LINE City. You will get the Mystery Black Mini Dress required for the Curious Closets after doing so.
The second item is in the Gift Shop. It costs 30 Cash.
The third item is found from the Fashion Shop in the 4th section of the Accessories tab. It costs 1,200 Gems.
In total, it costs 40 Cash and 1,200 Gems.
Vol.2
The first item is the Tanabata Dewy Eyes from playing Altair and Vega x10 times for the event.
The second item, Galaxy Travel Starry Hair Jewelry, costs 45 Cash from the Gift Shop.
The third item is the Milky Way Aura from playing the Celestial Romance Gacha.
In total, it costs at least 45+ Cash.
Vol.3=