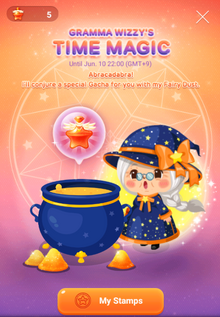 Gramma Wizzy's Time Magic is a feature introduced on May 8, 2017. It lets players use Fairy Dust in order to play old Gachas not available in the Gacha Shop anymore. It comes back periodically when a new stamp event is introduced. As confused by many players, Gramma Wizzy's Time Magic is NOT a once-a-year event. It occurs by random 2-3 times yearly.
Details
[
]
You must have Fairy Dust to see old Gachas.
It is given as a free perk based on your VIP Rank.
It is available as a reward in the daily gift log.
Your Fairy Dust count resets every year at 12am, Jan 1 (GMT+9)
You can use Fairy Dust by visiting Gramma Wizzy. She will make one random Gacha appear.
One random Gacha from the year you selected will be available to play for 1 hour when you use x1 Fairy Dust.
You will no longer be able to play the Gacha when the Time Magic wears off.
Players can travel from 2013 to the current year.
A timer will appear above the cauldron.
If you would like to see another Gacha before the hour finishes, just use another Fairy Dust.
Stamps
[
]
You will get one stamp for your first use of each Gacha you conjure with Fairy Dust.
Getting 5 stamps will get you rare and limited rewards.
Stamp counts are reset about the time the Time Magic event ends.
Rewards depend on the length of the event and how many times they are offered.