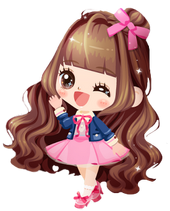 Cherry is a staff in LINEPLAY and the main mascot. You can visit her room which is usually decorated in the latest gachapon items.
She is not an actual player. She is LINE's mascot for LINE Play to showcase new Gachas and content.
She has a naughty sister named Berry.
Appearance
Edit
Cherry has brown, curly hair with a small bun tied at the right of her head. Her eyes are brown with a small, light blue sparkle. She's always smiling. Cherry's appearance changes from update to update, but she will always have the same hairstyle and eyes.
Cherry's Styling
Edit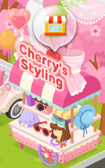 Cherry's room has a cart called Cherry's Styling. Cherry creates outfit sets that players can purchase. One outfit set may cost 6,000 to 12,000 gems unless there's a sale. The outfit set consists of accessories, hair, an outfit (or shirt and pants), and shoes.
It is not available at the moment.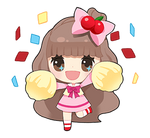 The image gallery for Cherry may be viewed here. It contains illustrations of Cherry that can be used as Phone wallpapers.